6 mins read | Collaboration
A partnership of ethics anchored in Africa: Altruist Sunscreen x Pala Eyewear
There was an unlikely meet-cute between Pala and Altruist Sunscreen at our warehouse – incredibly picturesque, we know. But really, what are the chances that two summer season brands that do charity work in Africa bump into each other?
Naturally, hearing that Altruist supports children with albinism across Africa to be protected from the sun and that we support accessible eye care for communities across Africa – it seemed like a partnership destined to happen. Which is what leads us here today, inviting you to learn a little more about what we both do, to raise awareness for our joint purpose of supporting communities in Africa, and, rather excitingly, give you the chance to win a pair of Pala Sunglasses PLUS the full range of Alturist sunscreen products*
Dive in, and at the end discover how to enter our summer essentials giveaway.
Eye health in Africa – the challenges faced
According to the IAPB, Africa has 73% more blind and visually impaired people than any other region in the world, which when untreated inhibits reading, learning, accessing education and job opportunities.
Eye care facilities are few are far between in remote regions of Africa, such as Zambia, Ghana and Ethiopia where Pala has contributed to projects before. For example, Sierra Leone has just 5 qualified optometrists for 7 million people. But this is just the tip of the iceberg when it comes to the challenges faced. Financial, social and cultural barriers are one of the biggest obstacles, and without addressing these, new centres and trained optometrists just wouldn't get used.
After extensive travel through sub-Saharan Africa, founder John started this brand with the central purpose of improving these statistics and providing affordable, accessible eye care for communities across Africa.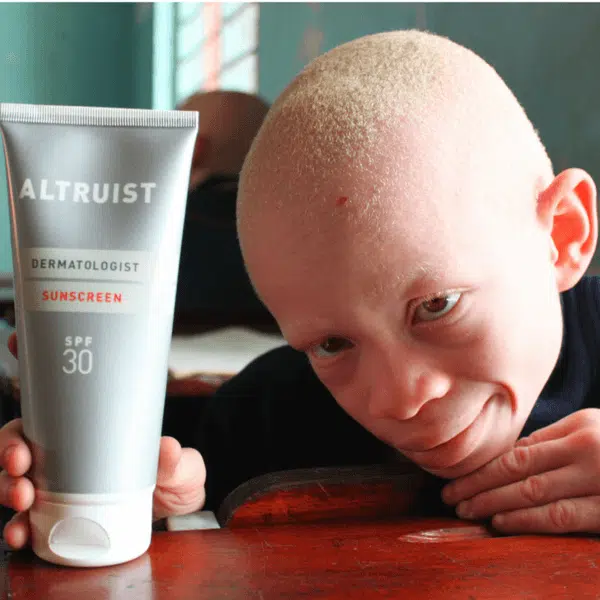 Albinism – a story of skin cancer and eyesight
Albinism is a genetic condition, more prevalent in Africa. The condition causes a lack of pigmentation with results in people affected having extremely white skin, hair and pale eyes.
Due to this missing pigmentation, people with albinism are highly vulnerable to sun exposure resulting in high rates of visual impairment and skin cancer. In fact, skin cancer is the no.1 cause of death to albino people in Africa.
Not only does albinism as a condition invite a whole host of health problems, in many regions of Africa, being albino is culturally misunderstood. Individuals can be made to feel dehumanised and ostracised by a communal belief that they are creations or creators of witchcraft.
With a belief that everyone should have equal opportunity to be protected from the sun, particularly the most vulnerable – Altruist decided to support charities that help children with albinism in Tanzania and the rest of Africa.
The numbers behind the mission
Sadly, 10% of the world's population are unable to access the eye care they need and yet, the World Health Organisation (WHO) has identified restoring eyesight as one of the most cost-effective health interventions to reduce poverty.
As for people, especially children living with albinism in Africa it is shocking to see the staistics and it becomes immediately apparent that their charity work is truly life-saving. For example:
100% of children with albinism will show signs of sun-related skin damage by the age of 10
About 50% of children with albinism will develop advanced skin cancer before the age of 30
Less than 2% will live to be 40 years old
Charities we work with
You know our primary charity partner Vision Action already. They are on a mission to enable people living in poverty to access affordable glasses and eye care – regardless of gender, economic status or geographical location. The charity put's a keen emphasis on the importance of education and community outreach to ensure every project's long term sustainability – so we're not there one day and gone tomorrow.
We have also worked with Albinism in Africa to provide 40 pairs of sunglasses to albino children, safeguarding their vision from an increased sensitivity to light due to a lack of melanin in the iris. We are hoping to extend our support of the Albino community in Africa going forward.
Altruist works with important charity partners to deliver sunscreen to those most in need, in particular, Stichting Albinisme in Afrika (SAA) – the Albinism in Africa Foundation. SAA is a non-profit organization that operates entirely on the basis of cash donations and donations of sun protection products.
The Albinism in Africa Foundation has been committed to more than 4,500 people with albinism in Africa since 2004 and the aim of the foundation is to improve the quality of life for albino people in Africa. They have achieved this by sending bottles of sunscreen to contacts in various countries in Africa.
Where the donations go & how they get there
We donate 4% of our revenue to grants managed by our charity partner, Vision Action. With the help of our customers, we have contributed £43,327 worth of grants to handpicked projects including, the refurbishment of a new Vision Centre in Chinsali – Zambia, purchasing additional hi-tech equipment, funding a school screening outreach project for more than 350 children and staff at Abalo Janko Primary School in East Wollega, Ethiopia and our next goal, funding a new Vision Centre in the Northern Province of Sierra Leone.
As for Alturist, 10p for every bottle of sunscreen sold is donated to their charity partner SAA, who ensures that the skincare required, including bottles of sunscreen, sun hats and sunglasses are delivered to those in need. And to date, Altruist has been able to donate over £580,000 in products since the launch of the brand in 2015… and as we grow so do our donations.
Our visions for the future and how you can help more
We hope you'll agree, Altruist and Pala are a pair of ethical brands with a shared vision to protect and support the most vulnerable; dedicated to giving back to those that need it the most. Now working together to see the world better; in a more altruistic way.
Click here to win 1 pair of Pala sunglasses plus the full range of Alturist sun and skin products.
PS. If you're not the winner of this prize, we're teaming up to offer a free tube of Altruist Sunscreen SPF50 for the first 120 Pala sunglasses bought from 6th June 2022. A 5-star Boots rated, high SPF and high PPD broad-spectrum sunscreen designed with world-class protection filters… now that's what we would call lucky!