The right material choices
Our ambition is always to choose materials that are better for the environment, which means staying on top of innovation in the materials we use across every component part of our product, from the lenses in our frames right through to the packaging that arrives on your doorstep.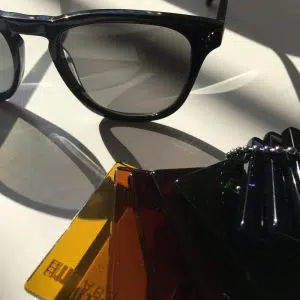 Mazzucchelli plant-based sunglasses frame (68%). Biodegradable (UNI-EN-ISO 14855-2:2018 standard). Black frames from Laes recycled black (70%) acetate.
Soft bags made from 70% recycled PET. Inks are vegan friendly .
Our standard lenses (non polarised) are 39% resin of plant origin
The metalwork on our frames uses stainless steel and can be recycled.
Our cases are woven from recycled plastic from the manufacturing process and water sachets
All packaging is either recycled or from FSC approved sources and can be recycled. Inks are vegan friendly. Our packaging is plastic free.
Innovation happens fast and we may unaware of a material solution or process out there that you think we should be looking at to reduce our impact on this planet more than we are now.  We would always love to hear from you if this is the case and listen to your discovery.
If it's something we end up moving forward with, then we'll definitely give you the recognition and a pair of sunglasses for your contribution to our better business. Please contact us at [email protected].