5 mins read | Collaboration
Lucy & Yak x Pala Collaborate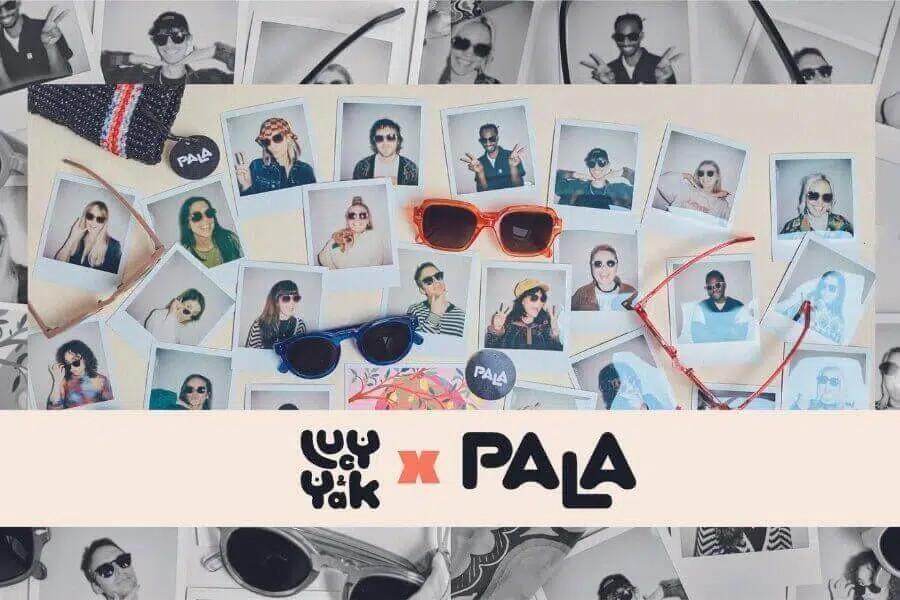 Pala has partnered with our Brighton neighbours, iconic conscious clothing brand Lucy & Yak to launch a limited edition collection of sunglasses.
We're ecstatic to finally announce the launch of this very special collaboration with Lucy & Yak. We've been working closely with our neighbours for the last 6 months or so to bring this iconic collaboration of brands and values together – all helping to fund Pala's current Sierra Leone project.
"We're thrilled with this collaboration. Having long admired Lucy & Yak as a brand, its values, and of course, distinctive design aesthetic. You can't turn a corner in Brighton without bumping into someone wearing their 'Yaks'!"
John Pritchard – Founder, Pala Eyewear
The backstory
For anyone that's not so familiar with Lucy & Yak, they're an independent, people-focused brand, based here in Brighton, UK.
The team are dedicated to upholding a positive environmental and social impact; showcasing that a business can and should be done differently – just like us!
With their signature dungarees, circular fashion model and transparent approach to community, Lucy & Yak are fast becoming the future of conscious living. So it only made sense to bring our individual approaches to ethical fashion together in this unique and limited edition partnership that sees Lucy & Yak's first foray into eyewear and Pala's mission to 'see the world better' come to life.
"As well as being our Brighton neighbours, we really connected with Pala's mission of wanting to see the world better. Lucy & Yak shares the same commitment to ethical practices as Pala, as well as wanting to create this range with a fellow independent brand, so it all felt like the perfect fit."
Lucy Greenwood, Co-Founder, Lucy & Yak
The frames
The micro collection is made up of two styles in three colourways each. The collection has been handmade in Italy from the finest bio-acetate with each frame kept beautifully in a custom Lucy & Yak print recycled PET microfibre bag and recycled plastic woven artisan case.
We had a lot of fun working together to bring Lucy & Yak's promotion of self-expression to an existing best-seller – 'Lich', as well as designing an exclusive bold 70's square frame, 'Haiba'.
The two silhouettes have been designed to fit every face, keeping to our mutual brand values of designing timelessly to outlast trends. But you can be sure that the vibrant colour palette will give you the chance to express your creative side.
Sustainability
A plant-based, bio-acetate frame that produces approximately 54% less Co2 than high street alternatives.
Microfiber bag made from 70% recycled PET bottles in a signature Lucy & Yak print.
More eco-friendly lenses made from 39% plant resin
100% recycled cases from waste plastic and water sachets – hand woven by female artisans in Ghana.
FSC-approved, recycled or recyclable packaging exclusively designed by the team at Lucy & Yak.
Small batch production to minimise waste
Learn more about Pala's materials here.
The Social Impact
Like with any other pair of Pala sunglasses, every pair sold helps to make a positive social change.
The Lucy & Yak x Pala collaboration will be helping to directly fund our most ambitious project to date – to build and equip a vision centre in Sierra Leone. This is a country with just 5 optometrists for a population of over 7 million people, and one of the poorest countries in the world.
We know that spectacles are one of the most cost-effective health interventions for alleviating poverty, it enables people to read, learn and work. We've already seen incredible transformations in the Chinsali district of Zambia where Pala x Vision Action built a vision centre in 2017 which now serves a community of over 80,000 people. You can learn more about that here.
Attention to detail
Each frame is named with a word from a native African language. Connecting its wearer to the positive change in Africa they have helped create and designed with Lucy & Yak's sense of joy and need for comfort.
Lich – Phenetic pronunciation 'leash', meaning 'Greatness' in Dholou
"Lich is our best-selling shape with a classic, round design and and slightly angled brow line to keep things interesting. This shape suits pretty much every face shape and works with a varied sense of style.
Haiba – Phenetic pronunciation 'hi-ba', meaning 'beauty of character' in Swahili
A style designed exclusively for Lucy & Yak. Taking the lead from frames that are a personal favourite of co-founder Lucy Greenwood – the team wanted something bold, big and with a touch of 70s chic. These make a statement whilst being extremely wearable – giving effortless retro glam and full coverage in an instant.
"This range is an exciting 'first' for us with it being our first venture into eyewear. As someone who wears sunglasses nearly every day, I know how they're the perfect accessory to get your personality across. With that in mind, we wanted to create a range of timeless, beautifully made pieces our customers could feel fabulous in and cherish for years to come.''
Lucy Greenwood, Co-Founder, Lucy & Yak